SYNOPSIS 
Iván has a  history in losing keys, wallets, cellphones and any thing that ends up in his hands. This "special ability" Ivan has, as well as his baldness, is a genetic inheritance from his father Floren.
One day when Floren is coming back home, he finds the door of his car wide open. Iván attacks again.
TECHNICAL SPECS
Genre: Comedy
Length: 12 minutes
Exhibition format: 35mm film. 1080 24p HDCAM or DVD. Color
Original Format: RedOne Digital Cinema 4K
Sound: Stereo
Place: Bilbao / Spain
CREW & TALENT
Directed and edited by Iván Cortázar
Written by Iván Cortázar & Álvaro Vega
Talent: Alex Angulo, Borja Perez, Álvaro Vega, Itziar Aizpuru, Hyunjin Koo, Iván Cortázar
Music: Martijn de Man
Production Manager: Daniel Cortázar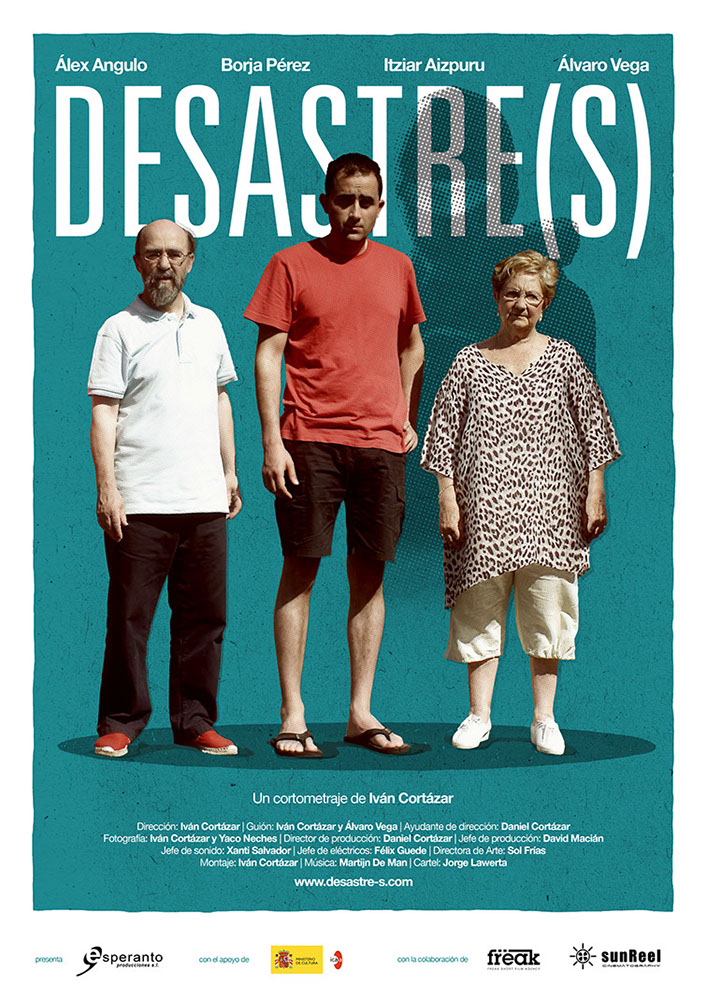 FESTIVALS
AWARDS 
2012
Audience Award. Actual 2012. (Logroño –  La Rioja)
EITB Television purchase of broadcasting rights.
2011
Best shortfilm. XIV Concurso ciudad de Antequera (Málaga)
Best shortfilm. Sonorama Festival 2011. (Aranda de Duero – Burgos)
Youth Award. Humor en corto. (Arrigorriaga – Vizcaya)
Grand Jury Prize. Best shortfilm. VII Visualia 2011. (Brunete – Madrid)
Best professional shortfilm. XII Cortema de Campillos (Málaga)
Audience Award. XII Calahorra Short Film Fest. (La Rioja)
Best comedy shortfilm. Torrelavega Film Festival(Cantabria)
Audience Award. Thanatos Film Festival (Écija – Sevilla)
Audience Award 2. Begibistan Film Festival (Amurrio – Álava)
Finalist. Cortogenial 2011 (Puente Genil – Córdoba)
Finalist. V Festival Lo cercacurts (Montomes de Segarra – Lleida)
Finalist. X Cicle de curtmetratges Agusti Comes (Vinaroz – Castellón)
Finalist. "Luis Gonzoga" Shortfilm Festival (Madrid)
Canal + TV purchase of broadcasting rights
2010
ICAA Spanish Cultural Department fellowship for the production of Desastre(s)
OFFICIAL SELECTIONS
2011
Málaga, cine Español Film Festival. (Spain)
Ginés en corto. (Sevilla)
XIV Semana Int. Del cortometraje de San Roque (Cádiz)
V Certamen de cortometrajes Ciudad de Benavente (Zamora)
XII Festival Asier Errasti (Eibar – Guipúzcoa)
Enkarzine 2011 (Zalla – Vizcaya)
17º Concurso estatal Ciudat de Valls (Tarragona)
9º Certamen nacional de cortometrajes de Dos Hermanas (Sevilla)
XIV Certamen nacional aula 18 (San Martín del Rey Aurelio – Asturias)
Festival Pilas en corto (Sevilla)
Film Festival de Astorga (León)
Festival de Pasaia Ikuska (Guipúzcoa)
Festival El pecado 2011 (Badajoz)
17 Festival internacional de jóvenes realizadores de Granada
IV Festival Basartena de Urduliz (Vizcaya)
16 Certamen audiovisual de Cabra (Córdoba)
Festival Paco Martinez Soria Tarazona y el Moncayo (Tarazona – Zaragoza)
4º Festival internacional bajo la luna (Islantilla – Huelva)
III Picnick Festival (Santander)
Urban comercial 2011. (Burgos)
Festival internacional de creación audiovisual 2011 (Villanueva de la serena – Badajoz)
Festival de cortos Fesdecurt (Denia – Valencia)
-   Some Films & Video Art   -