SYNOPSIS
In a world governed by ruthless men, a group of animals rise up and escape.
TECHNICAL SPECS
Duration: 7'30″ minutes
Exhibition format: 1080 24p HDCAM or Digital File. Color
Original Format: RedEpic 5K
Sound: Stereo
Place: New York
AWARDS 
2014
First Prize Art Lab in Video Art at the Int. Festival of Art Cinema. Milan. Italy.
First Prize in Video Art at "El almacén de las Artes" Cantabria, Spain.
Best soundtrack & Honorary mention at Figueira Film Art. Portugal 
VIDEO ART SCREENINGS 
2013
International Biennial of Video Art VIDEOAKT Barcelona, Berlin.
Region 0. Latino Video Art Fest. New York.
Region 0. Latino Video Art Fest at MARCO. Museo de Arte Contemporáneo de Vigo. Spain.
OFFICIAL SELECTIONS
2014
IX Int. Sardinia Festival.
Órbigo Short Film Festival "Luna de Cortos".
Festival ALCINE 44. Divergencias. (Spain)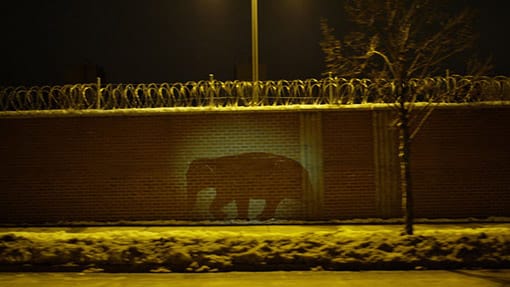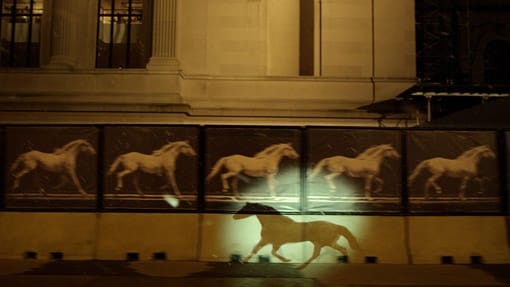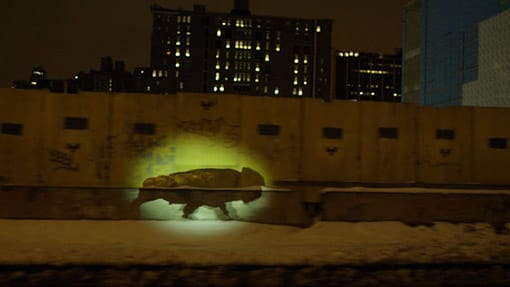 For full preview of the videos, or sales information, please contact:
-   Some Films & Video Art   -